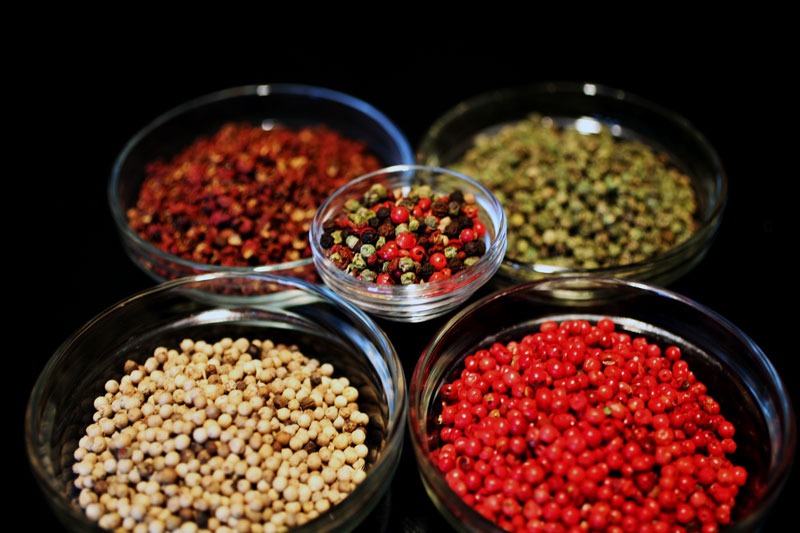 We will be discussing flavors this month in our "30 Days of Flavor" blog series. Every day this month, VSpicery will select a spice, seasoning, salt, etc., as the flavor of the day, giving you it's history, flavor profile, and uses. We hope you enjoy these flavors and their unique stories.
Today, we are discussing peppercorns, and VSpicery's favorite, Special Peppercorn Blend. Most of us use black pepper daily, and it has become a staple on tables across the globe. However, there are many other peppercorns that impart slightly different flavor notes and are equally delicious.
Pepper is grown on the flowering vine, Piper nigrum, native to India but is also cultivated in other tropical climates, with Vietnam being the largest exporter and producer in the world. Green Peppercorns are immature black peppercorns, white peppercorns come from the seed of the pepper plant with the outer skin removed, and pink peppercorns come from a different species, the Peruvian Pepper Tree. All of these peppercorns give food lots of flavor, and some recipes call for only one type of peppercorn.
Peppercorns have been used in Indian cooking since about 2000 BCE, and made their way around the globe in the following centuries. For some time, black pepper was referred to as "black gold" and was used as a trade commodity or money. The Portuguese were instrumental in extending pepper cultivation beyond India during the 16th century.
As with all spices, handling and storage are key to preserving flavor and pungency, and peppercorns can lose flavor if exposed to light and if they are not stored in airtight containers. Once the peppercorns are ground, the flavor quickly dissipates, which is why it is recommended to grind whole peppercorns just before use.
VSpicery's Special Peppercorn Blend contains five different peppercorns, and we use it for everything in place of black pepper. This blend has white, green, pink, black (Tellicherry, which is a higher grade of black peppercorns), and Szechuan peppercorns. The Szechuan peppercorn gives this blend slight berry notes with lemony overtones that creates a very smooth balance with the other four peppercorns. It is not only beautifully colorful, but the flavor this blend imparts on food is fabulous and not at all overpowering. We package our blend in a refillable grinder to ensure you get the freshest flavor possible. Many of our customers who have tried it, came back to buy this blend in bulk since they now use it daily in recipes and as a condiment. If you like pepper, you'll love our Special Peppercorn Blend.