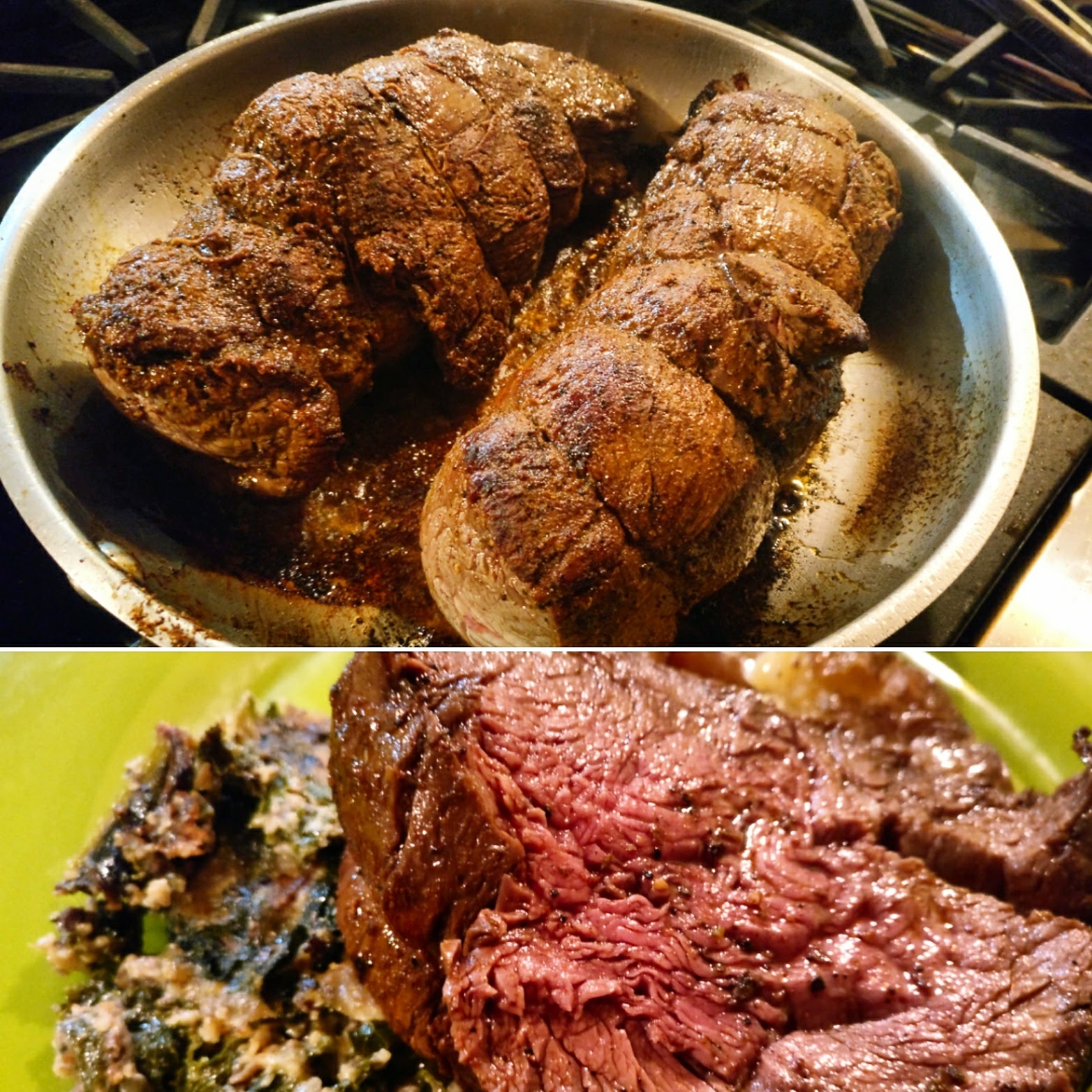 We will be discussing flavors this month in our "30 Days of Flavor" blog series. Every day this month, VSpicery will select a spice, seasoning, salt, etc., as the flavor of the day, giving you it's history, flavor profile, and uses. We hope you enjoy these flavors and their unique stories.
Yep, you heard me right: Steak. Grilling season is fast approaching, and VSpicery has some amazing steak rubs that are perfect for the grill, and also pretty darn awesome for baked or sautéed steaks. If you're a grill lovin' carnivore like we are, there is nothing like a juicy grilled steak. It is a simple technique, with little clean-up, and the flavor is unforgettable.
Beef is labeled using a grading system determined by the quantity of visible fat ("marbling") throughout the muscle tissue. The more marbling, the more flavorful, tender and juicy your steak will be, since the fat in between the muscles constantly bastes the meat as it melts during cooking. You don't want large strips of fat, but evenly distributed strands throughout the meat. The superior grade is "Prime", and this indicates a well marbled steak that will be tender and juicy. "Choice" is the second best grade, and can still deliver a pretty great steak. The final grade is "Select", but isn't recommended for steaks, since this will be a tougher and less flavorful piece of meat, much better for stews and soups.
When grilling your steaks, it's best to flip them only once so that the caramelization process is not disrupted, which gives the steak a nice crust. It's also best to use tongs or something that you can handle the steaks with that will not pierce the meat; if you use a fork, the steak will lose juice and dry out more easily. Also, allow the steaks to rest for 5 – 10 minutes before serving or cutting, this helps keep the steak tender and juicy.
Now that we've gone over some tips for selecting and cooking steaks, let's talk rubs! All three VSpicery steak rubs are very popular with our customers, most buying in bulk because they use it so fast.
Our first flavorful rub is called Java Jo Steak Seasoning. This a perfect blend of paprika, garlic, salt, and pepper with a hint of coffee, that comes through more in the aroma than flavor, but acts as a natural tenderizer and flavor enhancer to the other ingredients and the steak. Used to season steak or mixed into ground meat for burgers, this blend really brings out the natural flavor in the meat and gives a nice spice punch without heat.
Savory Steak Seasoning is a more traditional blend, that incorporates garlic, ginger, mustard, two different peppercorns, Worcestershire powder and salt in a balanced taste sensation that will soon become a family favorite for seasoning steaks, burgers, roast beef, and cheese-steak sandwiches. Savory Steak also makes a fantastic seasoning for sautéed mushrooms and onions as a condiment for steaks, burgers or sandwiches.
VSpicery's third blend for steak is Soulful Seasons, and this rub makes the best steak we have ever grilled. There is a little bit of heat to this blend, but is balanced with garlic, salt, pepper, coriander, paprika, and a touch of caraway. This rub is great on steaks, burgers, chicken, pork, and vegetables, it is a nice all-around blend that is one of our newest creations, but is quickly becoming a best-seller.
All three of these rubs give food fantastic flavor, with no chemicals, no preservatives, and definitely no MSG. Just loads of natural herbs and spices blended by hand at our shop to bring you simple ways to create big flavor every day at your table. Last tip for your next incredible steak, cooking time can make all the difference in flavor, and we suggest serving medium rare to medium temperature steaks to ensure the best flavor. For medium rare steaks like sirloin, ribeye, porterhouse or t-bone, it should take 7 – 9 minutes per side for an inch thickness, and 9 – 10 minutes per side for medium. If you like it well done, just leave it on a little longer until the meat feels really firm.
For the steak lover in your life, we also have a Rub Sampler available, just choose the "Steak Rub Sampler" option button to order.