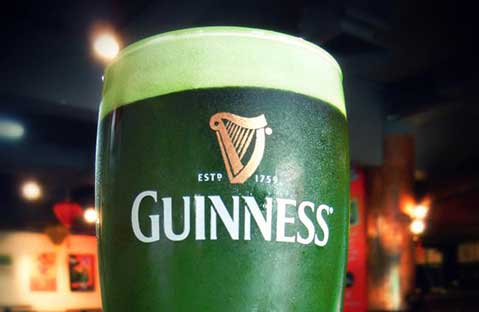 St. Patrick's Day is just around the corner! While deciding where to go for your pint(s) of green beer this year, lets talk about flavor, and get ready to change the way you think about Irish food. Historically, Irish cuisine wasn't on the map for most foodies, but Irish food has evolved in some delicious ways. Many modern chefs have embraced the basics while raising the bar on their national cuisine, and Irish food is not just about boiled dinners or corned beef and cabbage anymore.
Ireland is rich with a diversity of proteins like mackerel, scallops, lamb, beef, ducks and geese, to mention a few. Dishes like roasted leg of lamb with garlic, thyme, and juniper berries, then adding stout beer and honey sounds deliciously palate pleasing. A stout reduction cream sauce with chives and mushrooms for salmon would be luscious with garlic smashed potatoes. We just may have to make that tonight for dinner! Or, how does a roasted duck breast with a whiskey orange sauce or peppered duck breast with wild mushrooms and cream sound? I don't know about you, but my mouth is watering, and I can't decide if we should have lamb, salmon or duck for dinner now.
Traditionally, Irish cuisine incorporates seasonings such as caraway seeds, thyme, parsley, rosemary, sage, salt and peppercorns. Now, we are all familiar with most of these seasonings. However, from being in the spice business, I can tell you that most of us are not familiar with ways to use caraway seeds other than bread, or how a touch of caraway can bring a whole other level of complexity to the flavor of a dish.
Caraway seeds have a fennel, or anise, like flavor and crunchy texture. They help create traditional Irish flavor in diverse dishes from soda bread to corned beef. Caraway can be lightly crushed and added to mashed potatoes, we also suggest that the dry roasted and crushed seeds be added to milk and butter to infuse into the mixture before the mashing begins. You can add caraway seeds to a brining solution for roast chicken, it is also a traditional ingredient in Irish sausages instead of fennel, and it can also be added to ground beef for shepherd's pie. Combine a bit into supermarket ground sausage, form into patties, cook and serve with soda bread and eggs for a tasty Irish breakfast. There are so many different ways caraway can be used to create great flavors for your food, give it a try!
Here's a little St. Patty's Day story. A couple of years ago we were at the Seminole Heights Sunday Morning Market, and getting ready for a 2 market weekend kept me very busy all week. As the market came to a close, I realize it was St. Patrick 's Day and I hadn't planned dinner. Oh no….. What to do? I was exhausted and wanting a delicious dinner. The best thing available in my dazed state was the boneless/skinless chicken breast, then gathered some cabbage, onion, potatoes, and carrots, and this is what I did with them.
4 chicken breast seasoned lightly with VSpicery's Calgary Crush
2 tbsp. Seraphino Olive Oil
Cabbage quartered
Onions, sliced thinly
Potatoes, peeled and cubed
Carrots, peeled and cut into 1" inch pieces
¼ cup water or chicken broth
In an oven proof Dutch oven, brown the chicken breast in oil until mostly cooked through. Remove.
Sauté onion until tender. Layer potatoes, carrots, cabbage and add water/broth, sprinkle about 1 tbsp. more of Calgary Crush over the vegetables. Return chicken to pot cover and place in a 350 degree oven for 30 minutes. It may not be corned beef and cabbage, but it was ridiculously tasty.
That's it for this month. If you give any of these recipes a try, let us know how well you impressed your family or guests. Until next time, bon appetit.
Here are some other interesting recipes we ran across are:
Irish Scallop Bisque
8 large sea scallops
olive oil
1 qt seafood stock
3 stalks celery
2 medium carrots
1 large potato (preferably Russet), diced
1 medium yellow onion, chopped
3 tablespoons butter
1 teaspoon tomato paste
1 cup dry white wine
2 bay leaves
¼ tsp. thyme
1 cup half and half
chopped chives
salt and pepper
In a large saucepan, melt 3 tablespoons butter and sauté over medium heat the onion, carrots, celery and potato. Decrease the heat to medium-low and cook for 10 minutes, stirring occasionally. Add dry white wine and continue to cook for another 5 minutes. Stir in tomato paste and cook for another couple of minutes. Slowly add seafood stock, bay leaves and thyme. Cover and gently simmer for 20 minutes.
Turn off the heat, remove celery stalks, bay leaves and thyme and puree the mixture with a blender until smooth. Return the bisque to low heat; add half and half while stirring. Adjust salt and pepper. Cook for another 2 minutes. Meanwhile, in a pan, heat olive oil until very hot but not smoking. Sear scallops about 2 minutes on each side. Remove and set aside. Serve the bisque in bowls, adding scallops on top and sprinkle with some fresh chopped chives.
Lamb Shank Braised in Stout
6 lamb shanks
Flour, for dredging
Salt and pepper, to taste
1/3 cup olive oil
12 small white onions, peeled
3 large carrots, sliced
3 stalks celery, sliced
1 clove garlic, finely chopped
Pinch of dried rosemary
Pinch of dried thyme
1 cup Guinness Stout
3/4 cup beef stock
12 small potatoes, peeled
Lightly moisten the lamb shanks with water. In a large bowl or plastic bag, combine the flour, salt, and pepper and dredge the meat in the mixture. In a large skillet over medium heat, heat the olive oil. Add the lamb shanks and cook on all sides until browned, which should be about 10 minutes. Transfer to a Dutch oven or flameproof casserole dish.
Add the onions, carrots, celery, garlic, rosemary, and thyme to the skillet and cook over medium heat for 5 minutes, stirring to scrape up the browned bits on the pan. Pour the vegetables and pan juices onto the lamb. Add the Guinness and stock, cover, and simmer for 45 minutes. Add the potatoes, correct seasonings, re-cover, and cook until meat is fork tender, 1 1/2 to 1 3/4 hours.
To serve, place 1 lamb shank in the middle of 6 shallow soup bowls and spoon some vegetables and broth around. Serves 6.
Pan-Seared Loin of Pork with Derry Apple Relish
2-pound boneless loin of pork, trimmed of excess fat and sinew
3 tablespoons unsalted butter
1 onion, diced
1/4 cup all-purpose flour, seasoned with salt and pepper
1 tablespoon safflower oil
2 Granny Smith apples, cored and sliced
1 rib celery, finely diced
1 teaspoon finely chopped sage
1/2 teaspoon chopped rosemary
1/4 teaspoon ground cinnamon
2 teaspoons orange zest
1 1/2 cups apple cider
salt and freshly ground black pepper
fresh basil leaves, for garnish
Serves 4
Slice pork into 8 equal pieces. In a heavy-bottomed skillet, over the medium heat, melt butter. Add onion and celery, sweat, without coloring, for 2 minutes. Transfer to 2-quart casserole. Dust pork pieces with seasoned flour.
In a skillet, over high heat, sear pork pieces on the oil. Remove. Arrange apples on top of onion in the Dutch Oven. Add the pork, mixed with the remaining ingredients. Bring to a boil. Cover, lower heat, and simmer, 1 hour.
Presentation: Transfer the pork, apple, and onions to a serving platter. Reduce the cooking liquid by half. Strain and pour over the pork. Garnish with fresh basil leaves.