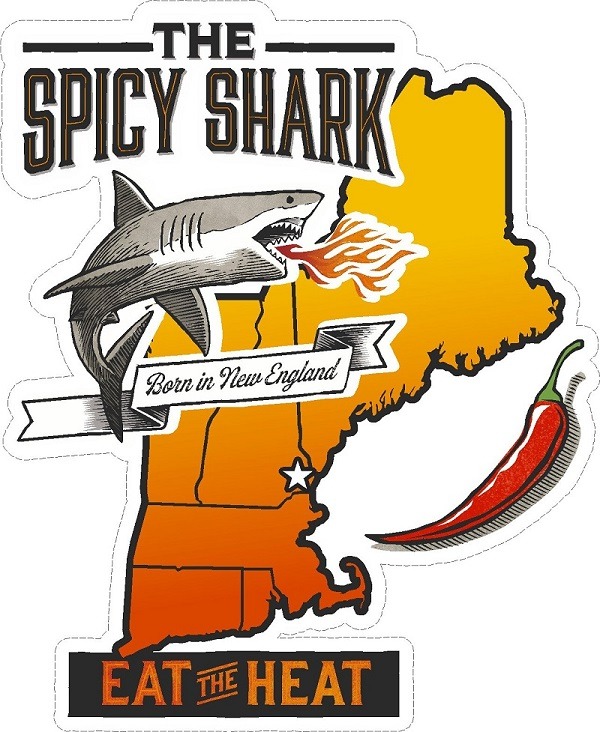 VSpicery recently partnered with a fantastic hot sauce company out of New England, called The Spicy Shark, and we have some exciting new products to share with you! But first, we want to tell you a little about this company, and why, after 16 years of being a hot sauce free zone, we decided to add hot sauce to our shelves.
If you have been a customer of VSpicery for a while, you know that we love to find interesting and delicious new products every 6 to 12 months. We have had many hot sauce companies approach us, begging to have their products on our shelves. Every time, we share the samples with our taste testers to see if the products have what it takes, but honestly, none of them hit the mark. In case you haven't noticed, hot sauce is EVERYWHERE! You can even find some varieties of bottled hot sauce in convenience stores. For us to stock any product, it has to be an incredible stand out product from a company that maintains the same level of quality that we maintain at the shop. That means no preservatives or additives, high quality ingredients, and big flavor. Many hot sauce companies focus so much on trying to attain new levels of flames on the tongue, that they miss out on providing full flavors that can actually be used on food to make it taste better, not just hot af. The market is so saturated with mediocre hot sauces that we really wanted to find products that stand out from the crowd. We finally found what we've been looking for, and we think you are going to love them just as much as we do.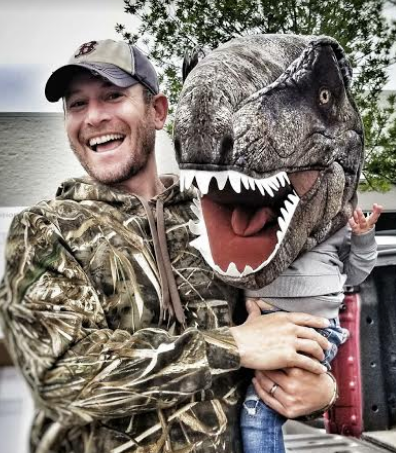 Here's a little background on The Spicy Shark, their mission, why we love this little company and the folks who own it. After growing up working in the restaurant business, and then 17 years in the beer industry, Founder Shark Gabe was ready for a change. He figured if he could take his two biggest passions, spicy food and sharks, and turn that into a career, it would be a pretty fun life. With some family recipes, and help from his family and friends, he took the summer of 2018 to put together the blueprints for The Spicy Shark. The feeding frenzy began in February 2019!
Their mission is simple: To make the best tasting and unique spicy products using the best ingredients, to help preserve and improve the lives of our oceans' sharks, and to have a lot of fun along the way.
The Spicy Shark uses fresh peppers, veggies and fruits to create their amazing flavors, and you can taste each ingredient in every bite. We started with a selection of products that we really loved, all with a nice heat level and lots of flavor. Here's the list: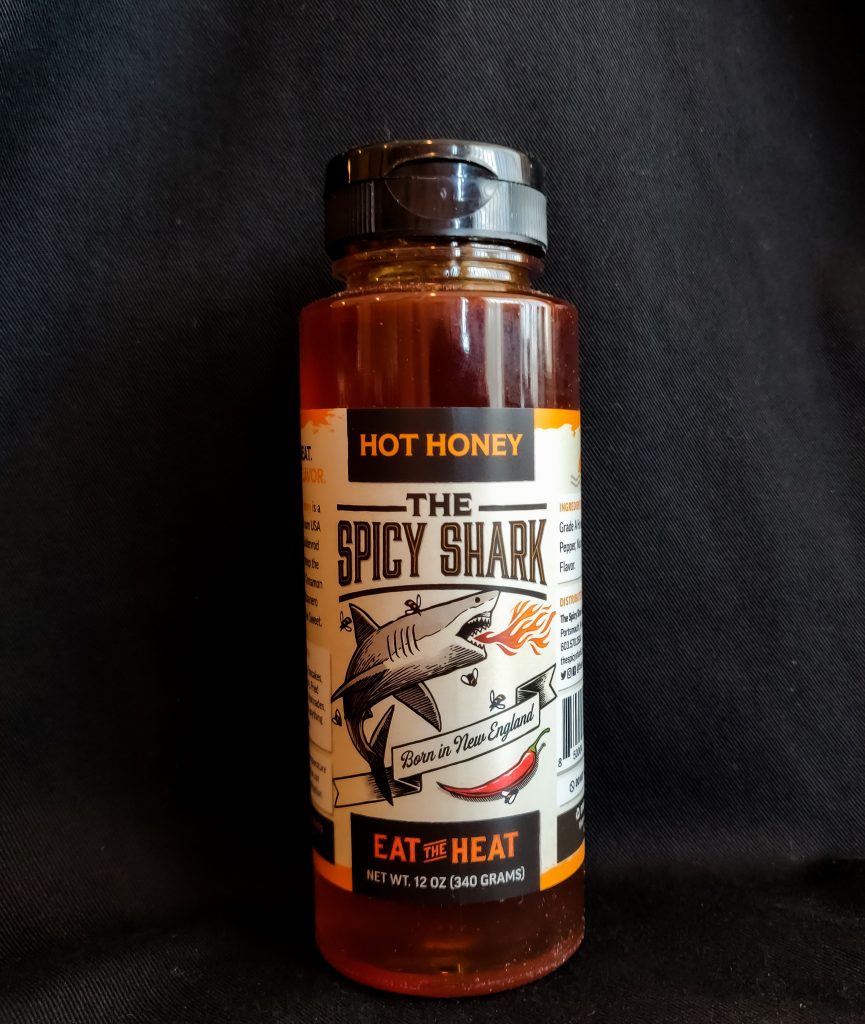 Hot Honey
The Spicy Shark Original Hot Honey is a special blend of 100% pure USA Clover, Alfalfa, and Goldenrod Grade A Honey. We steep the honey with a touch of Cinnamon and infuse it with Habanero to add some heat to the sweet. Delicious with biscuits, pancakes, waffles, warm desserts, pizza, ribs, fried chicken, scallops, cheese, marinades, and hot beverages. Medium Heat Level. Gluten-Free.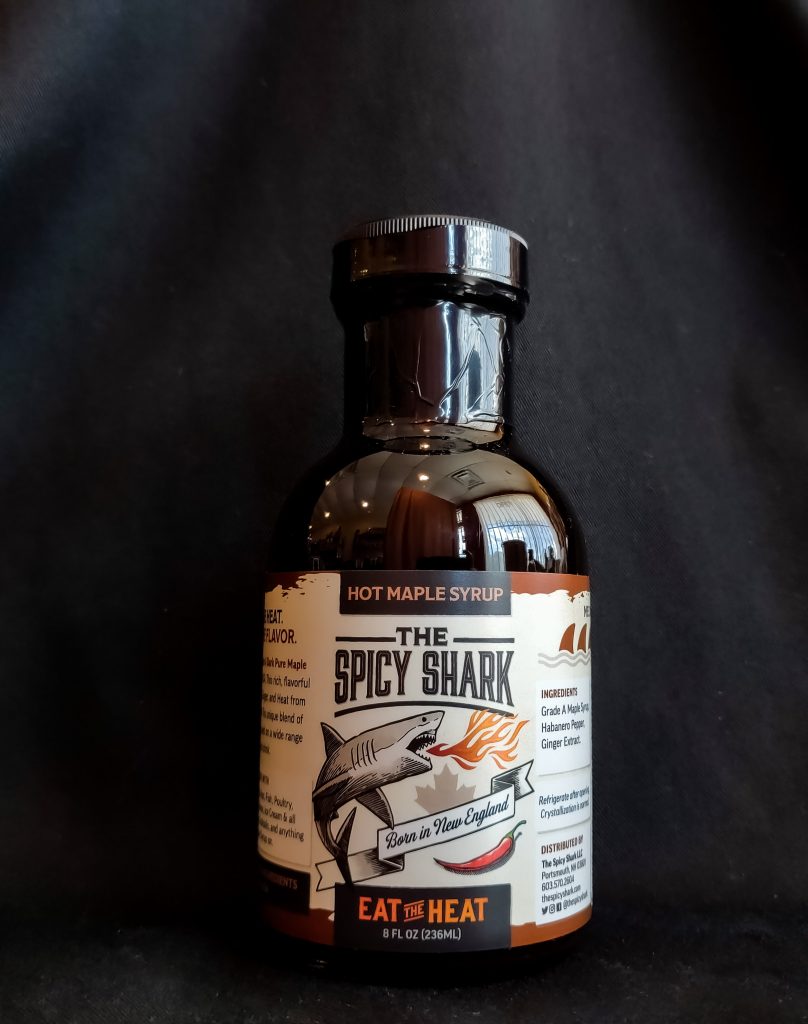 Hot Maple Syrup
The finest Grade A Dark Pure Maple Syrup available in the USA creates the base for this tasty syrup. This rich, flavorful syrup is then infused with ginger, and heat from the Habanero Pepper. This unique blend of Sweet & Heat can be used on a wide range of food and drink. Works well as a glaze, in sauces, and BBQ sauce. Use on meat, fish, poultry, desserts, pancakes or waffles, ice cream, coffee drinks, and cocktails. Medium Heat Level. Vegan and Gluten-Free.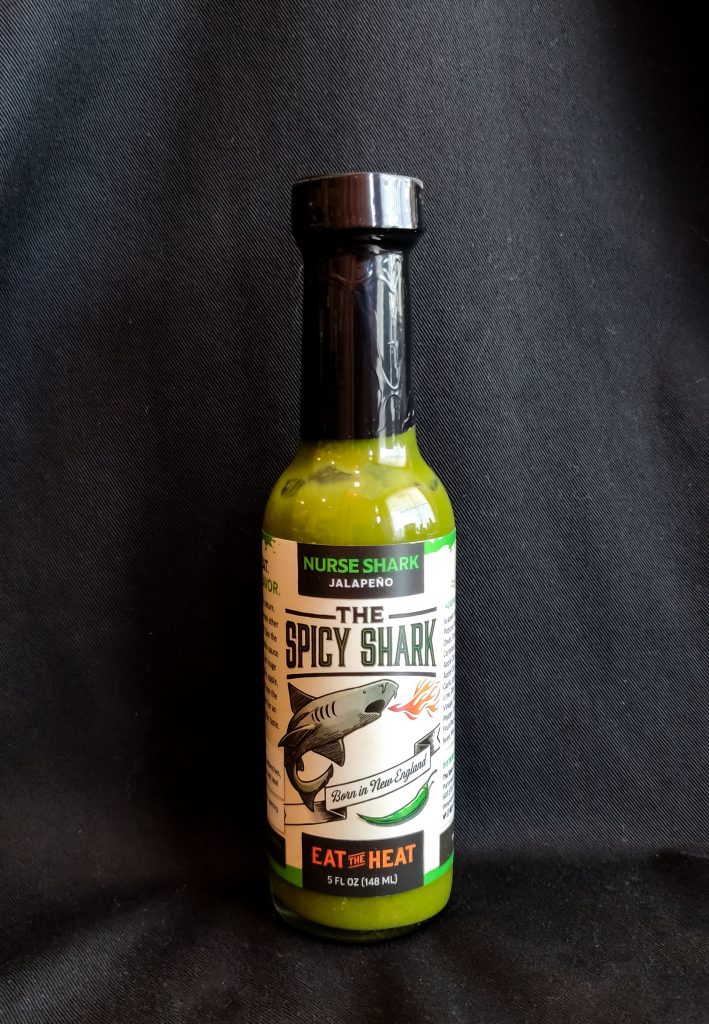 Nurse Shark Jalapeno Hot Sauce
Nurse Sharks are mellow by nature, but large in size, and unlike most other sharks, smooth to the touch. Like the Nurse Shark, this green Jalapeno sauce has a mellow smooth heat, but huge flavor. Undertones of tomatillo, apple, and melon balance the heat from the Jalapeno and Poblano pepper for an approachable, but unforgettable taste. Delicious with tacos, nachos, eggs, chicken and sandwiches. Warm Heat Level. Vegan and Gluten-Free.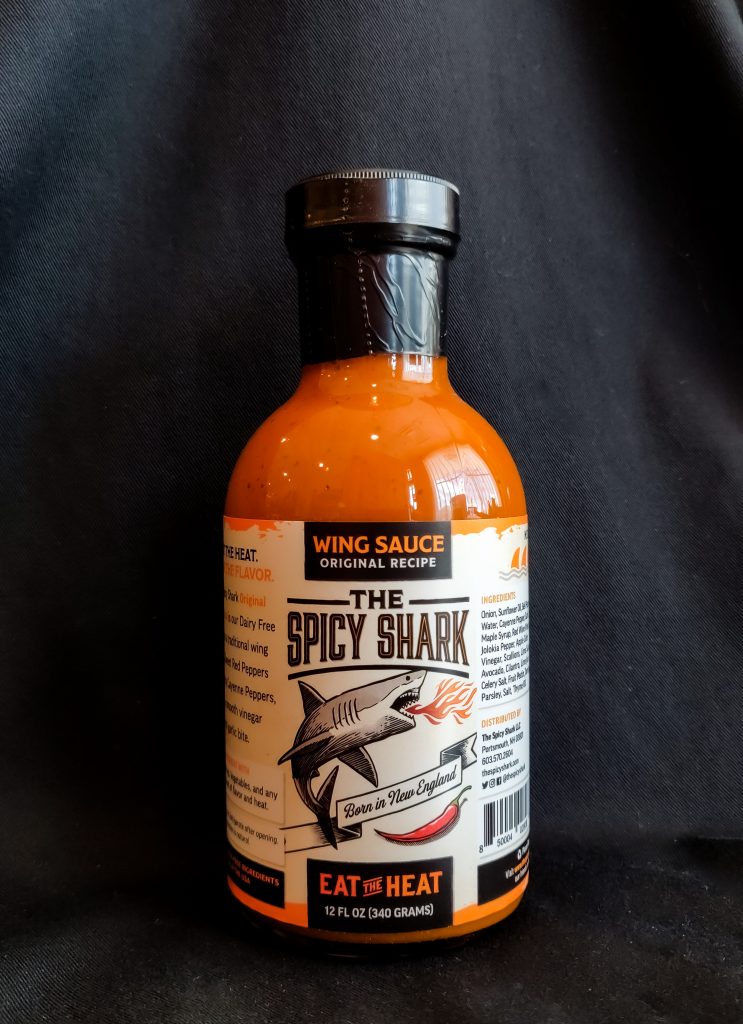 Wing Sauce
The Spicy Shark Original Wing Sauce is our Dairy Free twist on a traditional wing sauce. Sweet Red Peppers meet Spicy Cayenne Peppers, with a smooth vinegar and garlic bite. Use on chicken wings and veggies. Spicy Shark Wing Sauce makes a really great buffalo cauliflower dish, as well. Medium Heat Level. Vegan and Gluten-Free.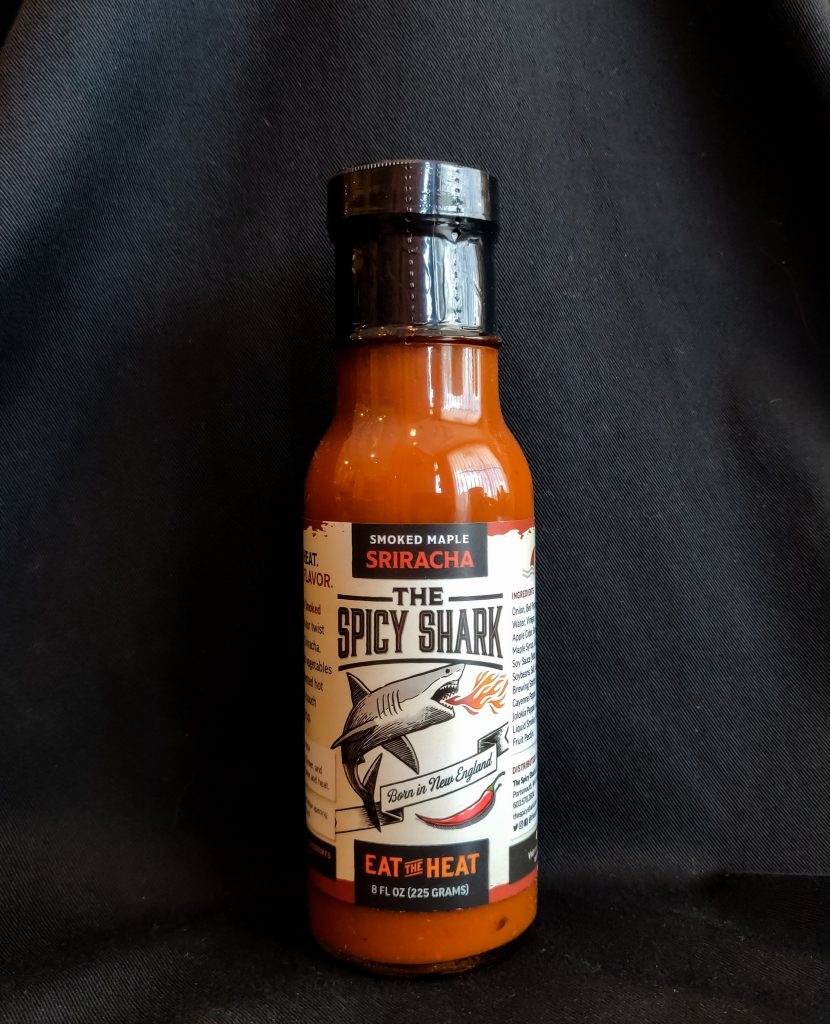 Smoked Maple Sriracha Sauce
The Spicy Shark Smoked Maple Sriracha is our twist on a traditional Sriracha. We balance smoked vegetables with garlic, fermented hot peppers, and a touch of maple syrup. This sauce is one of our favorites and is delicious on anything that you want to add a little heat and a whole lot of flavor. Mild Heat Level. Vegan and Gluten-Free.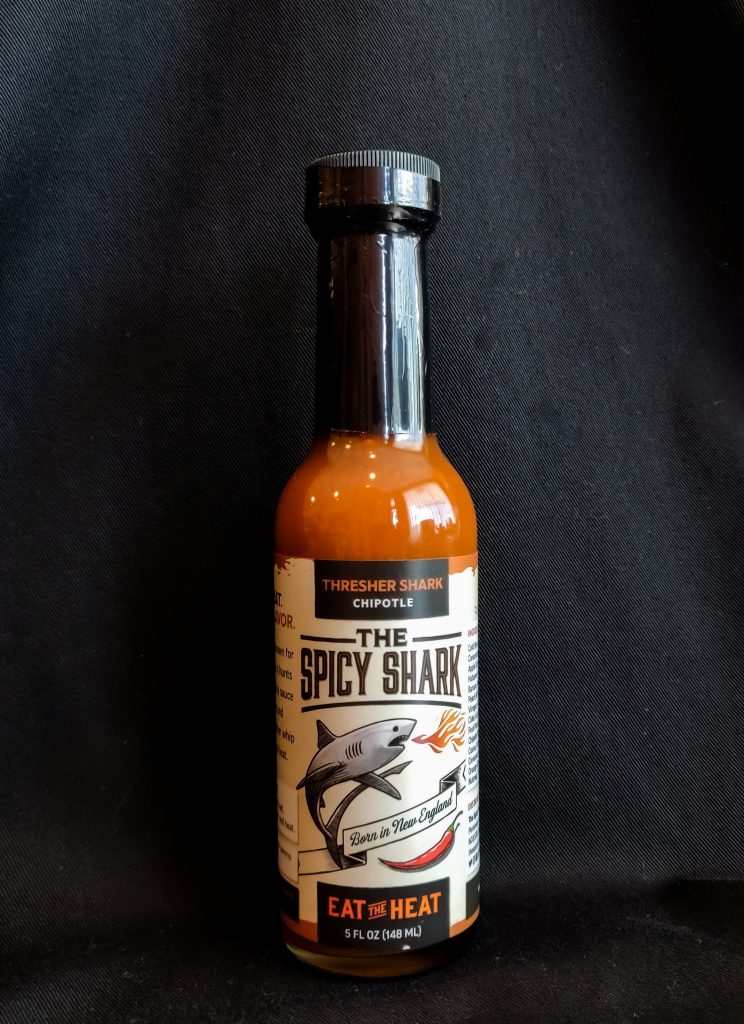 Thresher Shark Chipotle Hot Sauce
The Thresher Shark is known for its long unique tail that it hunts with. This complex smokey sauce with notes of coffee and chocolate packs a thresher whip of chipotle smoke and heat. Delicious with fish, poultry, tacos, burritos, quesadillas, fajitas, add to salsa, grilled shrimp, nachos, and eggs. Warm Heat Level. Vegan and Gluten-Free.
Check them out, and let us know what you think by adding your review to the product's page on this site. We are having a lot of fun finding different dishes to use these sauces on, and can't get enough of them.