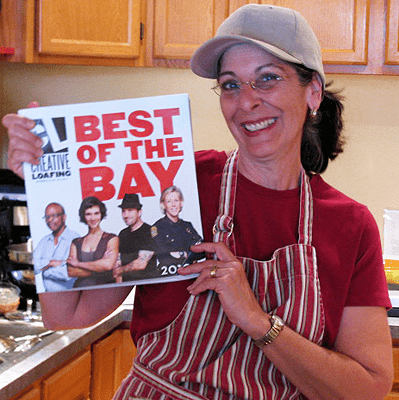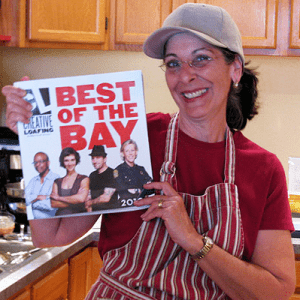 VSpicery is a labor of love started by Val Herzog to share her passion for flavor, and to solve the problems she encountered while cooking.
One of the biggest problems Val ran into cooking for her family and friends over the years was how to get the freshest and best herbs, spices, and seasonings in reasonable enough quantities and at reasonable enough prices to permit culinary exploration. She wanted to create gourmet flavors in her kitchen, but buying herbs and spices at the usual grocery or food stores meant purchasing a pre-packaged size at typically a higher expense for an inferior product, made worse by chemical additives and unknown time spent on the shelf.
On the other hand, buying fresh herbs and spices from the major spice clearinghouses meant purchasing in large quantities, too much to be used while still fresh and flavorful in a single family setting. Large quantity requirements also discouraged experimentation with recipes. Why buy a lot of something you may use very little of for a cooking experiment? What if you don't like the results? What do you do with the rest? VSpicery was founded as a solution to these problems encountered by Val and so many others.
Starting VSpicery had been a dream fueled by Val's passion for food and flavor. Her dream became a reality when Val had the opportunity open the doors to her new future, and new business. This was her opportunity to shine, and go from doing what she had to do in the corporate world, to what she always wanted to do. Cooking is Val's passion, and VSpicery allows her to share her knowledge with others, inspiring everyone's inner chef to not only make the usual fare taste better, but also experiment with new culinary delights.
Through VSpicery, Val wants to make it possible for everybody, no matter how busy their lives, to enjoy being the cook who provides their family with quality ingredients and gourmet flavor. VSpicery is dedicated to providing superior specialty products to savor and treat oneself or share with friends, and to aid our customers in the quest for the best. VSpicery is the only independently owned, local spice shop in the area, and we are committed to quality, freshness, and flavor. Our little spice shop has been growing since 2003, and has been hailed by Creative Loafing as "a kind of apothecary shop for chefs". Let us help make your next meal a sensual exploration of flavor.
What's your VSpicery story?
Latest Chapters
Hello! My fiance and I love your spices, and were hoping to use the harmony chicken rub for a dinner we having with some friends next week. One of my friends is allergic to MSG so I wanted to make sure there was no MSG in this rub – could you please let me know at your earliest convenience? Thanks so much! – Nikki
Hi Nikki, thanks for asking.  We do not use MSG or any other enhancements or additives in our culinary blends.  They are pure spices.  Happy you enjoy Harmony.  Look forward to seeing you.
We just got Order No. 11 – ours went to eleven!!  Just wanted to say we love your store and your spices, and even though we just moved from Tampa to St Louis, we still wanted to give some Saffron Sea Salt as Christmas gifts and are SO glad you have an online store – we tell everyone about you!
Rachael McVay
Hello Val!

First, a short French poem:

La vie est breve
Un peu d'amour
Un peu de reve
Et puis, Bonsoir

Several years ago when we met VSpicery at the street fair in St.Petersburg, we never thought that contact would lead to opening a new experience for enhancing our meals.

Val, we cook all the time and especially so on the weekends when we have more time. We remember the time we found a recipe that called for "Grains of Paradise". We had no clue what that was. Fortunately, we had made your acquaintance and knew where to get the answer… from you!

This note is to let you know how much we trust your recommendations for "spicing-up" our cooking adventures and for making those special spices for our favorite dishes.  Please feel-free to use our testimonial.

Best Regards,

Dennis & Miki
Tampa, Florida

PS: If you require a translation of the poem, let us know. It was meant to convey the point that "life", even the best ones, need "spicing-up" between love and dreams. Your spices make that happen. Thank you.
Creative Loafing Best of the Bay 2010: Best place to spice up your life.
"Have a vague memory of some spice mixture from a long-forgotten recipe that you can't find in supermarkets? Or just looking to add a dash of flavor to your everyday dishes? Then you must go to VSpicery, a kind of apothecary shop for chefs. Owner Val Herzog says she was inspired to found the store in order to share her passion for flavor, and it shows; watching her concoct a spice mix is a delight, like viewing a culinary version of Bill Nye the Science Guy. Just reading the product names on the shelves is fun: Himalayan Sea Salt, Key Lime Curd, Cha Cha Chili Rub. You may want to cook with them just to say you did (but make sure you get Val's advice on what tastes good with what)."
Vivian DeLuca, DMD says:
Best place to by the freshest tumeric and nutmeg for all natural medicinal veggie/fruit smoothies.