You're busy, and Christmas shopping sucks, so let's keep this short and sweet: if you have people who love to cook in your life, one of these three gift baskets will make the perfect Christmas present. They're themed around some major flavor sets, and are packed with flavors your wannabe Gordon Ramsey will love. And, as with all VSpicery products, they're guaranteed to be the freshest and highest quality around.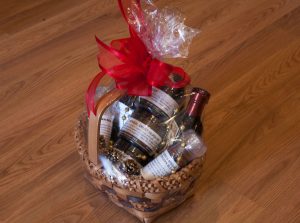 First up is the Traditional Chef basket. This gift basket contains an assortment of the classics, including Herbal Crust Seasoning, Salad Seasons, Shallots N' Pepper, Special Peppercorn Blend, Pure Ocean Sea Salt, Champagne Pear Vinegar, and Seraphina Greek Organic Olive Oil. It's perfect for your budding Martha Stewarts, and anyone interested in European style cuisine. This is an all purpose basket that just about anyone can use to make a fabulous meal. And I do say just about anyone, because I have met some absolutely terrible cooks in my life. These baskets are delicious, but they're not magic.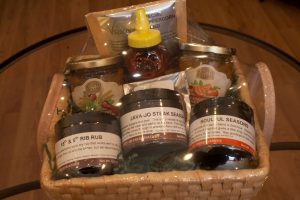 Next up is the Grill Master basket. It has a selection of rubs, mustards, and spices that will knock the socks off your resident BBQ boss. I'd like to say that's me in my house, but everyone knows Kym works the grill better than I do. It includes Java Jo Steak Seasoning, Soulful Seasons, 15th & 5th Rib Rub, Tangerine Habanero Mustard, Sweet Fire Ale, Alderwood Smoked Salt, Smoked Peppercorn, and a Fall Honey Bear. (And if you don't know, seasonal honeys vary in flavor because of what is currently available to the bees at different times of year).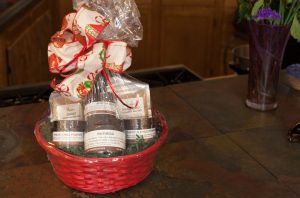 Finally, we have the Hot Monster basket. If you have a Hot Monster in your life, you probably already know who they are. This is the basket for them. It includes Seraphina Greek Organic Olive Oil, African Bird Pepper, Ancho, Chipotle, Ghost Pepper Salt, Habanero Salt, En Fuego Seasoning Blend, Maroon Jerk Hot, and Red Hot Sting. Being a Hot Monster myself, I can personally attest that you'd be surprised at how much heat a chili salt can pack, and when using it in conjunction with some of our dried ground peppers, it's easy to bring the fire. Given that winter time is the perfect time for some spicy chili, this is a no brainer for Christmas.
So, save time, simplify your shopping, and still make your home chefs think you went all out. Pick from one of the three baskets below, and finish your Christmas shopping early.