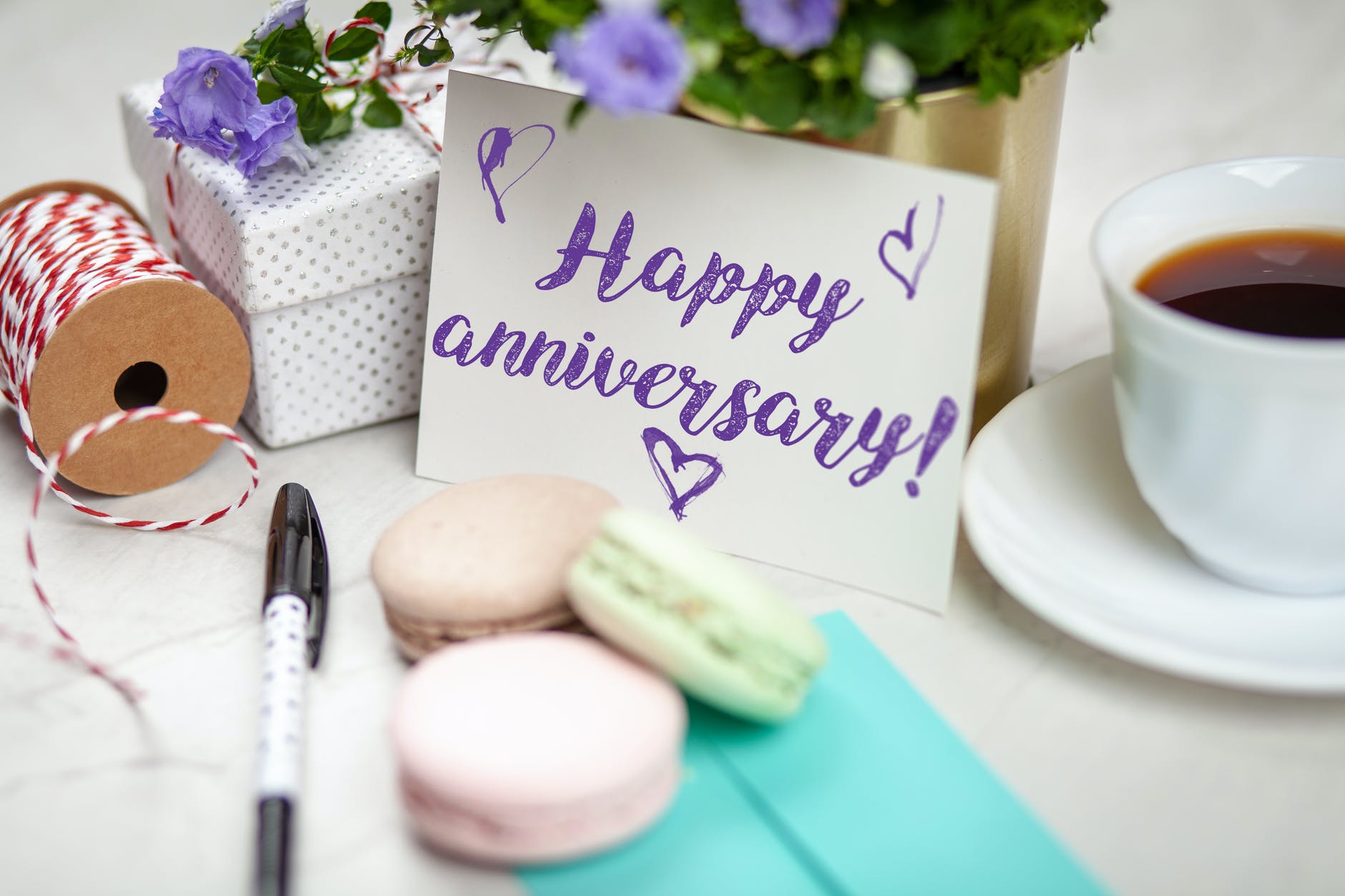 VSpicery is celebrating our 18th anniversary!
We really appreciate all of you for your support throughout this past year. It has been challenging in many ways for all of us. We are thrilled to celebrate another year of business, and can't wait to announce some delicious new products coming to our shelves this year. For 18 years, we have provided our customers with great spices, seasoning blends, and other delightful flavors to incorporate in everyday cooking. We started our business at a farmers' market back in 2001 and after two years decided to take our business to the next step, opening our brick and mortar location. Our doors opened in January 2003, and we have been at the same location ever since, right next to Alessi Bakery. Lots of great stories have been created and shared here over the years. We have had celebrity chefs, local chefs, professional football players, restaurateurs, gourmet cooks, and most importantly, our folks who just love to cook. The difference our spices and seasonings make is clear from the first bite, and we have strived to maintain the same high quality in everything we do since day one. We look forward to many more years of supplying the very best in seasonings for your kitchen.
To celebrate our anniversary and our Tampa Bay Buccaneers playing at home in Super Bowl LV, we are offering 20% off all VSpicery spice blends and Dip blends from January 31st – February 6th.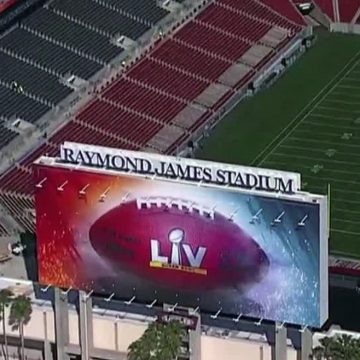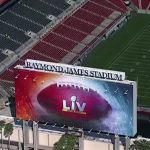 Super Bowl LV Game Day
Sunday, February 7, 6:30 PM on CBS
Raymond James Stadium, Tampa, FL
Kansas City Chiefs vs Tampa Bay Buccaneers
Super Bowl Sunday is next Sunday, and food is one of the most important aspects of the day. If you plan on cooking a few dishes for Super Bowl LV, we have a few traditional recipes and unique spins on old favorites that will keep everyone happy no matter what team is winning.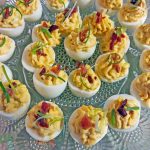 Deviled Eggs are always a crowd favorite, and we have a few variations that will get your taste buds tingling. The deviled eggs pictured are Loaded Deviled Eggs with V's Garlic Salt, a little Smoked Paprika, mayo, cheddar cheese and bacon pieces mixed into the egg yolks, then topped with a small piece of bacon and slivers of green onion. Here are a few other ideas for deliciously flavored deviled eggs that will be the hit of the meal.
– Curried deviled eggs with our Madras Curry and a little smoked salt.
– Dilly Devils with our Dillious blend.
– Truffled Deviled eggs with our Black Truffle Salt and Fines herbal blend.
– Smokey Deviled Eggs with Smoked Paprika (or Smoked Hot Paprika for a little kick) and smoked salt.
– Guacamole Deviled eggs by adding avocado, Cocoa Loco Taco seasoning and a little smoked salt.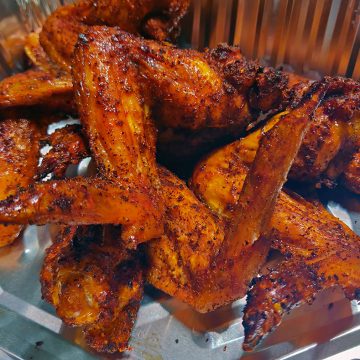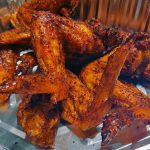 Smoked Wings Our favorite VSpicery blend to use for chicken wings is Red Hot Sting. As the name of this rub implies, it is hot and fiery, and makes great 4 alarm wings without being overpoweringly hot. We lightly coat wings with olive oil, then toss with Red Hot Sting, and store in the fridge until we are ready to grill or smoke the wings. If you prefer to toss chicken wings in sauce, lightly coat wings with olive oil and season with salt and pepper then cook as desired. To make the sauce, melt butter, along with your favorite hot sauce in a pan, add Red Hot Sting to taste, then toss wings in sauce, and serve.
Tasty Tango and Ale & Herbs are two very different blends that love the grill, and it do amazing things to grilled or smoked chicken. Ale & Herbs is one of our new favorite blends. This complex spice profile has beer, herbs, with lots of flavor and a nice savory kick. Perfect for the grill, and it loves being smoked too. Grilled chicken with Ale & Herbs is fantastic, and we can't get enough! If you love chicken wings, and find yourself in a "flavor rut", Ale & Herbs is the answer to your breakthrough, and will have you back on the King of Wings leaderboard in one meal. Put wings, or chicken breasts into a bowl or ziplock bag, add enough olive oil and seasoning to evenly coat the chicken. Marinate from 1 hour to overnight, and grill or smoke until done. Anytime we smoke chicken wings for a party with any of these delicious blends, they never last more than an hour after they come off the grill. Become an instant gourmet with a simple and delicious way to get big flavor in your wings with our seasoning blends!
Focaccia Bread is really easy to make, and we have a great recipe for you to try. Avoid pizza delivery delays on the big game day and top your homemade Focaccia dough with your favorite toppings like a pizza or slice into thick chunks and make an olive oil dip with one of VSpicery Dip Blends. We have lots of suggestions for your focaccia experimentation, along with the Focaccia recipe on our recipe page.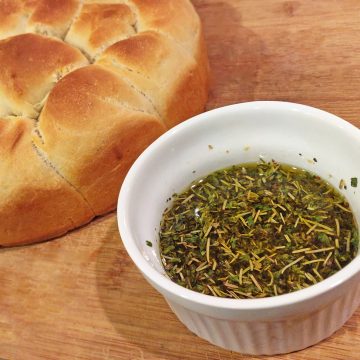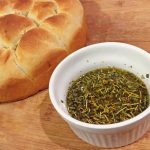 Ammoyo is an Italian blend with basil and oregano, and a slight kick from crushed red peppers. Grecian is a lovely Mediterranean inspired dip blend with a bright rosemary flavor that is balanced well with garlic and other herbs. That's Garlic is a seriously delicious garlicky blend that works great as a bread seasoning or olive oil dip blend. Tomato Basil dip blend combines a sun-dried tomato taste with a little zing that is highlighted with nice basil flavor. Whether you add a dip blend to the focaccia dough or not, you can make a delicious infused olive oil with any of these blends for dipping. We suggest adding the dip blend of choice to a high quality Olive Oil, like Seraphino, and dip a piece of bread from this focaccia recipe or use with your favorite bread.
Order your favorite VSpicery flavors online! If you are in the Tampa Bay area and prefer to stop by, call us with you curbside pickup order anytime from 10a – 4p Tuesday – Friday, 10a – 2p Saturday – 813-870-1133.