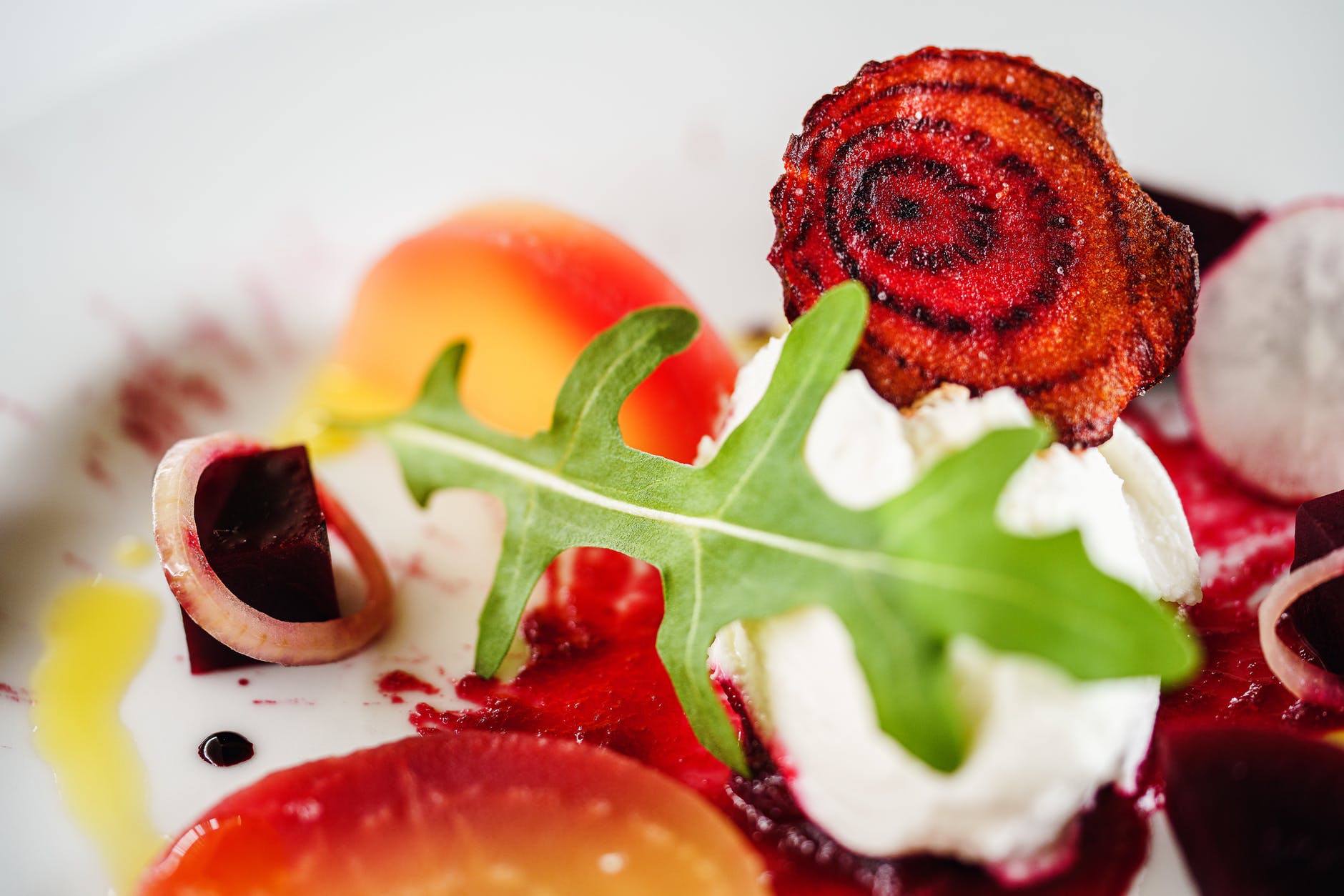 Recipe Type:
Salad
,
Veggies
Earthy beet flavor meets peppery arugula and tangy goat cheese in this recipe. The combination creates a delicious taste experience in every bite. We created the vinaigrette for this salad using our Bellindora Pomegranate Balsamic Vinegar. The beautiful herbal flavor in this vinaigrette is from our Salad Seasons with just enough added honey to take the sharpness out of the vinegar base.
This is one of our favorite salads and is really easy to make for a main meal or side salad. Add a few other veggies or some protein to fill it out for a main dish. Above all, we like to pair it with beef or chicken dishes. Citrus marinated grilled chicken goes well with it. Use red or golden beets, whichever you prefer, or use a little of both. The amount of greens and other ingredients used in this recipe are subject to what size salad you would like to prepare, so there are no specific measurements for the salad ingredients.
How to make Beet and Arugula Salad
Roast beets: Cut tops, peel skin, and cut into quarters. Rub beet quarters with olive oil, sprinkle with salt & pepper. Then roast on a baking sheet at 350 degrees for 30 minutes. Let cool completely before adding to the salad.
Next, prepare the dressing to give the dry ingredients time to hydrate and allow the flavors to fully combine before using.
Simply add all ingredients in a bowl or small blender, and whisk or blend until dressing is well mixed. We used a bullet blender to combine the dressing ingredients, but a whisk will do just as nicely. Set aside until you are ready to dress the salad.
Rinse and dry arugula, and set aside while preparing the rest of the ingredients.
For extra crisp, let arugula sit in cold ice water for a few minutes before rinsing.
Slice red onion, and set aside.
Once cooled, dice roasted beets.
Add arugula to a plate, top with sliced onions, goat cheese and diced beets.
Then drizzle some Pomegranate Balsamic Vinaigrette over the top, and enjoy!