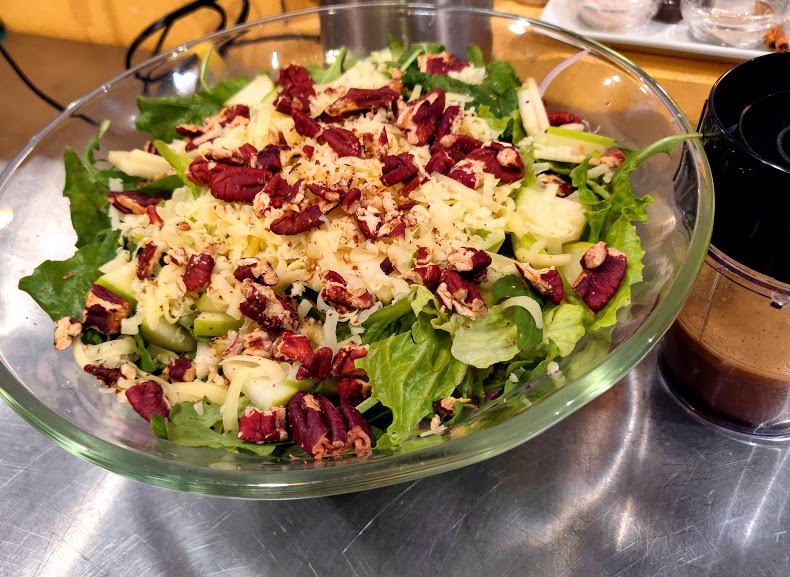 Recipe Type:
Salad
,
Veggies
Crisp savory flavors rule this salad recipe that create really satisfying bites. The sharpness of aged cheddar and crisp tartness of green apple go very well together. Add everything else together and you get an amazing salad experience. Arugula provides a nice peppery nuttiness that works well with the other flavors. Roast pecans before adding them to the salad to deepen the nutty flavor. However, roasting pecans isn't necessary if you are pinched for time.
The dressing for this salad tastes incredible. A touch of sweetness in the dressing is from maple syrup and honey. The maple flakes accent those flavors beautifully. Make this salad dressing for any autumn style salad too. The green apple, orange and maple flavors are perfect for fall, but you can enjoy this salad any time of year. The amount of greens and salad ingredients used in this recipe are subject to what size salad you would like to prepare, so there are no specific measurements for those ingredients.
How to make Green Apple and Cheddar Salad
Prepare the dressing first to give the dry ingredients time to hydrate and allow the flavors to fully combine before using.
Simply add all ingredients in a bowl or small blender, and mix well until dressing has emulsified. We used a bullet blender to combine these dressing ingredients. A whisk will do just as nicely. Set dressing aside until you are ready to finish the salad.
Preheat oven to 350 degrees. Line a rimmed baking sheet with parchment paper or foil for easy cleanup. Toss raw pecans in oil and salt if desired, but it is not necessary. You can roast pecans without adding anything to them.
Arrange in a single layer on prepared baking sheet. Toast until browned and fragrant, stirring occasionally, about 7 to 10 minutes. Remove from oven and chop, or use whole.
While the pecans are roasting, rinse and dry the romaine lettuce and arugula. Set aside while preparing the rest of the ingredients.
For extra crisp, let lettuce sit in cold ice water for a few minutes before rinsing.
Slice red onion, and set aside.
Grate aged cheddar cheese, and set aside.
Dice green apple, and get ready to plate all ingredients.
Add romaine lettuce and arugula to a plate. Top with sliced onion, apples, roasted pecans and grated aged cheddar cheese.
Then add the Apple Balsamic Vinaigrette, and enjoy.