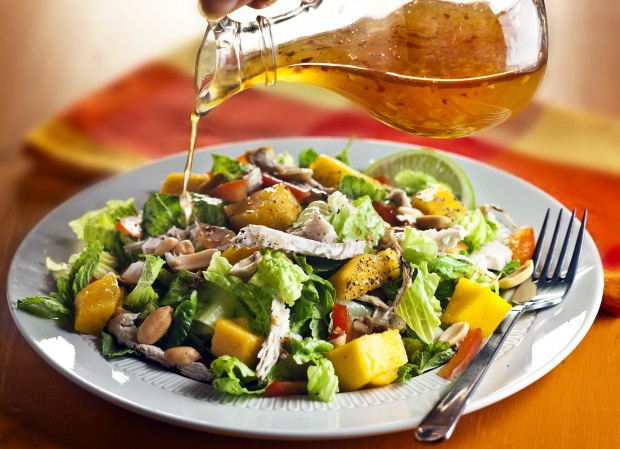 Recipe Type:
Salad
,
Veggies
Our Jicama Salad recipe is great to make as a side salad or main dish. The bright flavors are perfect for summer time when you feel like having a light meal. We use bitter greens that nicely balance the sweet notes of mango and carrots. The dressing for this salad is a refreshing Citrus Vinaigrette using one of our favorite vinegars, Champagne Pear. If you haven't tried this vinegar yet, you really should. We have never tasted a pear vinegar like it.
If you are making this salad as a main dish, there are a few protein options that will work really well, like Grilled or baked fish, sauteed or grilled shrimp, and baked or grilled chicken. The amount of greens, mango and veggies used in this recipe are subject to what size salad you would like to prepare, so there are no specific measurements for those ingredients.
How to make Jicama Salad
Make the dressing first to give the dry ingredients time to hydrate and allow the flavors to fully combine before using.
Simply add all ingredients in a bowl or small blender, and mix well until dressing has emulsified. We used a bullet blender to combine these dressing ingredients, but a whisk will do just as nicely. Set aside.
Rinse and dry the mixed greens and escarole, and set aside while preparing the rest of the ingredients.
For extra crisp, let greens sit in cold ice water for a few minutes before rinsing.
Cube mango, and set aside in a small bowl.
Slice jicama, celery and carrots. We like to slice the veggies fairly thin for this salad, but feel free to use thicker slices or cut into chunks if you prefer.
Add greens and escarole to a plate, top with prepared veggies and mango, then top with a drizzle of the Citrus Vinaigrette.
Top with thin slices of fresh mint, if you like, and serve.