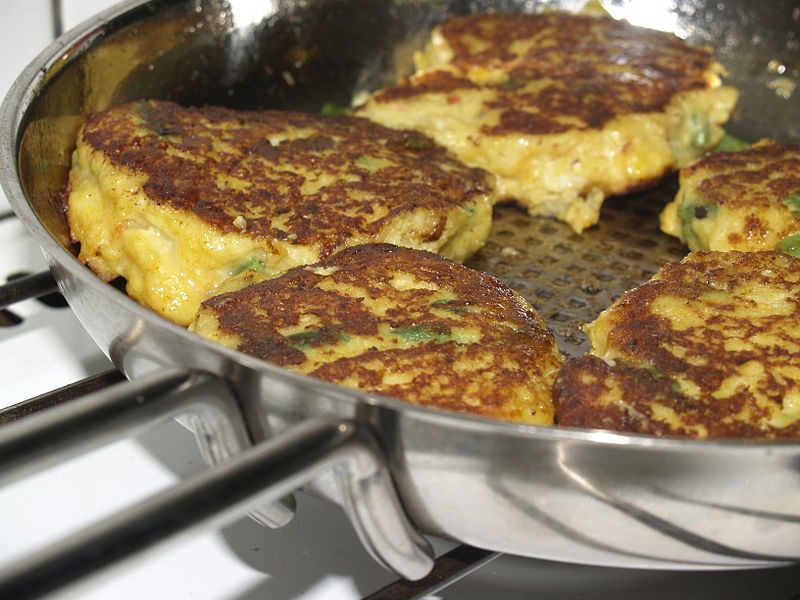 Recipe Type:
Fish
I created this fish cake recipe from childhood memories of my Mom's cod croquettes. She would form hers into small oval shaped cakes, but we wanted a little more fish on our plate. So, I decided to make a nice sized fish cake, about the size of a large crab cake. The mix is loose but will hold together just fine, be sure to assemble the cakes quickly, though.
After making this recipe a few times, we were very happy with consistent flavor and results. Fish cakes go well with grits, veggies, salad, black beans and rice or mac and cheese. My granddaughter absolutely LOVED them! It is a simple, fast, kid friendly meal. Play with the cake shape while forming to make fish sticks, fish shaped cakes, or anything else that piques your creativity. Adjust your baking time accordingly. Smaller cakes will take less time to cook.
How to make VSpicery's Shallots N' Pepper Fish Cakes
Ingredients
1 LB Flaky White Fish such as Cod
1 Egg, slightly beaten
1 medium Onion
1 stalk Celery
1/2 cup plus ¼ cup Bread Crumbs
In a food processor chop down onion and celery until finely minced.  Remove to bowl.  
Season fish with 1 tsp. Shallots N' Pepper (more if you like more).  Put fish into food processor and chop down.
Combine fish with onion, celery, egg and 1/4 cup bread crumbs mix together well.
Combine ½ cup bread crumbs with 1 tsp. Shallots N' Pepper and coat fish cakes. Place on a baking sheet.  Drizzle with a bit of olive oil.
Bake at 400 degrees for 20 minutes and serve immediately.